3rd August 2017
Industry at Shine 2017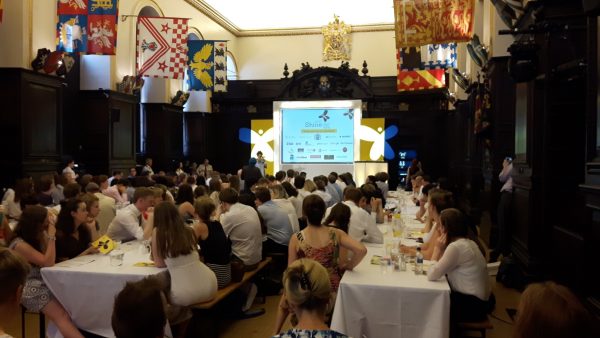 We had a great turn-out of industry professionals at Shine 2017 who were busy tweeting.
Here's what they had to say…
Denmaur Papers have been huge supporters of Shine over the years: each year they sponsor an award and supply all the paper for our Winners Book.
Fantastic day @#ShineSMA17 @ Stationers Hall. Quality entries, well deserved winners. @DenmaurPapers proud to sponsor event. pic.twitter.com/Hk8HG1R0c5

— Denmaur Papers (@DenmaurPapers) June 21, 2017
The team from PurePrint were in the house – they print our Winners Book and help judge awards each year.
Great to support the @Shinemediawards today at Stationers Hall. Hundreds of great entries from talented students #shinesma17 pic.twitter.com/pSrG4IjbXE

— Pureprint (@Pureprint) June 19, 2017
The BPIF (British Print Industry Federation) were there too…
Congrats to @AGSBSport & @PSCA_FreeSchool who've won a BPIF Intro to Print Workshop at the #ShineSMA17! @shinemediawards pic.twitter.com/Aa6ZpBRUtU

— BPIF (@BPIF) June 19, 2017
Great to see so many young people interested in print at the #ShineSMA17! @shinemediawards pic.twitter.com/CknYrb1Zgy

— BPIF (@BPIF) June 19, 2017
The Printing Charity was lending its support once more…
We are pleased to support #shinesma17 today. Excited to meet the next generation of talented young people! https://t.co/E5YLuq9C0S

— The Printing Charity (@printingcharity) June 19, 2017
Long time supporters of Shine, Earth Island Publishing were tweeting too…
Great day at #shinesma17 @shinemediawards with plenty of worthy winners. #Brochure #Judges @stationershall #Encouraging #Supporting #Talent pic.twitter.com/fTZ5KOMwUs

— Earth Island UK (@EarthIslandUK) June 19, 2017
The Copyright Licensing Agency were too…
We had a fantastic day at #shinesma17 @shinemediawards – well done to all of the deserving winners! #futureofmedia

— Copyright Licensing (@CLA_UK) June 19, 2017
Marketing agency Pedroza Comms were really impressed with our winners…
Standard at Shine School Media Awards is extraordinary – so much talent #shinesma17

— PedrozaComms (@PedrozaComms) June 19, 2017
Anna Bassi, editor of The Week Junior was there…
Congratulations to Ibstock Place School – winners of Best Overall Editorial Content at this year's @shinemediawards #shinesma17 #magazines

— Anna Bassi (@mrsb_dda) June 19, 2017
As was the Stationers' Company's own Elaine Pooke…
A Great Competition for secondary schools UK award day!#shinesma17 pic.twitter.com/Qte3nX3pF9

— elaine Pooke (@EPOOKE) June 19, 2017