29th June 2020
My Day at the Daily Mail by Feranmi Babajide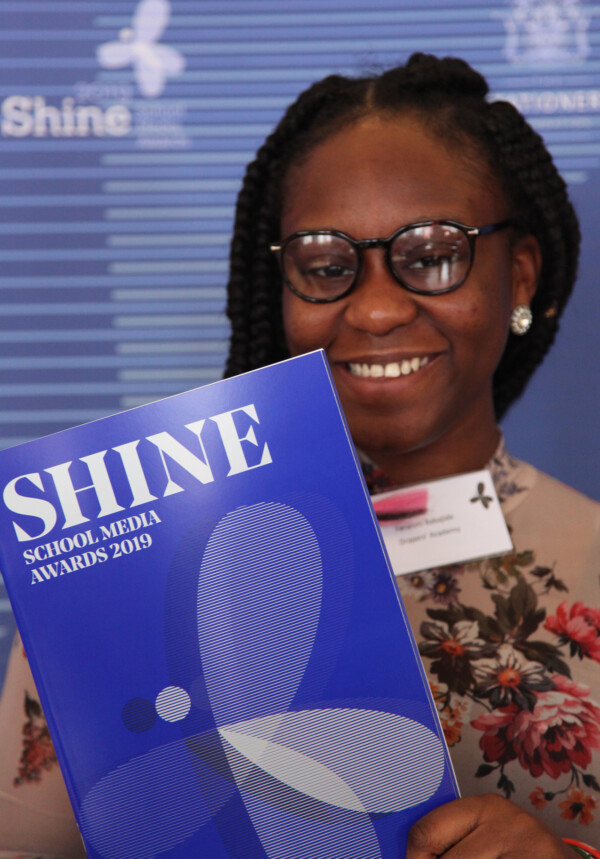 At the Shine School Media Awards 2019, Drapers Academy student Feranmi Babajide won our 'Shine Scholar' prize, the highest accolade we give to a student each year.
Part of Feranmi's prize was a day working at the Daily Mail with consulting editor Liz Hunt. Here, Feranmi writes about her experience.
–
"Illustrator"
"Author"
"Lawyer"
When asked that dreaded question: "What do you want to do when you grow up?" – these are just a few of the responses I have given over the years.
As a kid I wanted to do everything. I wanted to have every possible job on my CV, so much so I made a list of those I wanted to try including, archaeologist and astronaut. But over the years, I found myself scratching out many of these fantasy jobs that once appealed. I realised that I'm not a fan of mud and dust, and after learning about space I'm remain petrified of the ever-expanding vacuum that surrounds our little Planet.
It wasn't until 2019, that I got a little closer to identifying my dream profession.
That was when I was awarded the 'Shine Scholar of the Year' at the Shine School Media Awards for my role as the creator and editor-in-chief of my school magazine 'It's Complicated'.
After the tears and myriad late nights that went into the project it felt absolutely amazing to have my efforts and that of my team acknowledged. The Awards Day in London was incredible. I entered the famous Stationers' Hall thinking we wouldn't win anything. We left with four awards including 'Best Magazine'.
What happened next for me personally was that Shine helped open a door to give me a glimpse of a career that I had always been told would be too difficult and competitive ever to get into. My reward as Shine Scholar was a day's work experience at The Daily Mail newspaper at its HQ in West London shadowing the Assistant Editor (Features & Comment), Liz Hunt.
My day began at the Features Desk with just two people, (rather than the usual 6) because it was a Sunday when a skeleton staff operates. I was directed to the main desk where a massive stack of all the Sunday newspapers awaited me – plus all the magazines and supplements.
I was given a crash course in how the Features desk worked – accompanied by an abundance of new terminology and phrases. Liz explained how the Features Desk is the 'powerhouse' of the paper, providing a wide range of general and news features, op-eds, news analysis and commentaries and interviews.
Her team has to be on the case all the time – what the Mail's rivals are doing, what's happening online and on social media. That Sunday morning was particularly busy as Boris Johnson had just been crowned leader of the Tory Party and our new Prime Minister.
Liz told me that the executives on the Features Desk aren't just occupied with the serious stuff – politics, disasters or the overwhelming confusion that is Brexit. An important part of the job is to find the more light-hearted stories to balance them between the grittier, more depressing stuff. What matters most in a newspaper is 'the mix' – getting it right day after day is the big challenge.
One of the lighter stories that day was a YouGov poll that had unveiled – rather controversially – the Magnum as the 'nation's favourite ice lolly'. The poll had been commissioned to publicise the pop up 'Magnum Pleasure Store' in Soho. Liz asked me to research facts for a 'Magnum in Numbers' piece. I spent several hours researching lots of fascinating facts about Magnum. Now my brain has a special space for trivia about Magnum ice-cream: did you know that a pint of Magnum milk chocolate hazelnut ice cream has over 1000 calories?
Liz edited the final draft and I was so excited at the possibility that it would appear in Monday's paper and I might even get a tiny credit in the Daily Mail, And then the story got scrapped – or hit the spike in Fleet St terminology.
And so I learnt a painful truth about newspapers. Stories get spiked all the time, regardless of how well-written they are. The news is constantly changing as is the mix of stories and there will be casualties. It gave me another insight into journalism.
As the day wore on, the vast news room and empty desks began to fill with sub-editors and designers who work from mid-afternoon until very late. Seeing all those professionals working together was amazing – the speed and the co-ordination.
The big story that day was about the Duchess of Sussex guest-editing Vogue and her selection of women she looks up to who were on the front cover. Liz manged to sneak me into a couple of news conferences where I saw the Duty Editor that day, Leaf Kalfayan, discuss with the heads of departments how the story would be reported.
At times it felt like I was in a scene from a movie – the banter, the wit, the serious work ethic and a no-nonsense boss ruthlessly scrapping ideas to produce the best possible paper.
It was a successful and insightful day and I would just like to thank Liz Hunt for allowing me to shadow her for the day and for answering my questions, and to thank Shine and The Stationers' Company. Were it not for the competition or my award, I doubt I would have been given this awesome opportunity.
Spending the day at the Mail and observing everything in real time with experts was an invaluable experience that I'll always be grateful for.