31st July 2023
Shine 2023 speech by Katie Vanneck-Smith, CEO of Hearst UK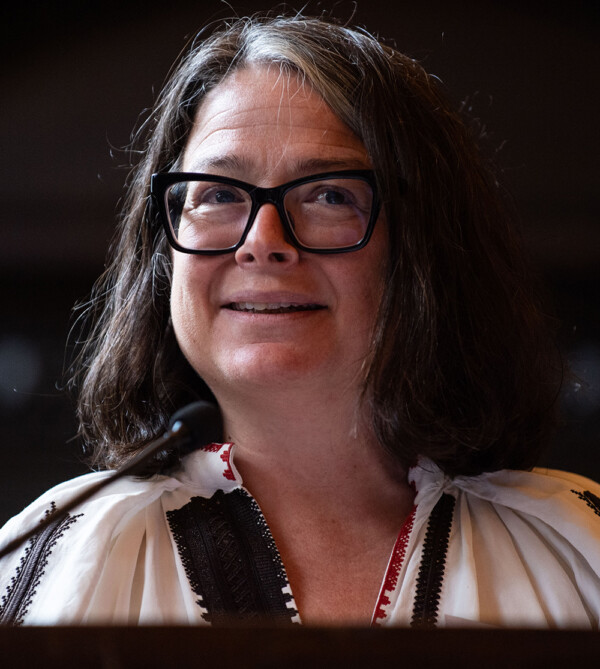 The publisher Hearst has been a part of the Shine competition since the very beginning, some thirteen years ago, so it was fantastic to welcome Katie Vanneck-Smith, CEO of Hearst UK, to speak to our nominees on awards day this year.
Hearst are long-time sponsors and supporters of the competition and Katie's speech was one of three truly memorable speeches from Shine 2023.
We're showcasing each of the speeches on the website and this is the third in that series.
It's an honour to be here today surrounded by so much talent, and the next generation of our industry. You're all here because you've produced exceptional content, be that a newspaper, magazine, podcast or website – so you're already on the pathway to a career in media, should you choose it. It's a career I would recommend.
I've been asked to say a few words about my journey to becoming CEO at Hearst UK but before I do that, I'd like to thank Alison and the Shine team for inviting us to be part of the event again.
This is the thirteenth year that we've been involved with the awards, and the competition holds a very special place in our Hearst hearts. One of the awards' founding members was the late Terry Mansfield CBE, our former Managing Director.
Terry cared passionately about helping young people to achieve their potential, and I'm proud for us to sponsor:
The best magazine category
The Terry Mansfield CBE award for tomorrow's talent, for which we're offering the prize of a week's work experience at our HQ, House of Hearst – I guarantee whoever wins that you're in for a treat.
As for my own journey, CEO wasn't something I initially set out to become.
Much of my media career has been in marketing, which I naturally fell into. I like to put myself into other people's shoes and I'm inquisitive. And for marketing you have to know your customer and be able to focus on customer insight, so that was a natural fit.
The news industry I joined back in the 90s, as a Marketing Manager at News Corp (who own The Times, Sunday Times, The Sun and then the News of the World) was a very different world to today. But we had many women in senior positions, which wasn't the norm, and it was an environment I thrived in.
After the phone hacking scandal which the younger people in the room may not remember (explain it a bit) from 2009 to 2011, there was a succession of male CEOs and several of the senior female leaders left. I then left for a role at The Telegraph but before long I was offered Marketing Director at The Times and Sunday Times, so I went back.
My biggest achievement was taking those titles to becoming the first news brands in the English language to be paid for in digital format. The ipad had just been launched, and the idea of reading the news on your ipad was popular in the business community, so the timing of launching a paid-for digital news subscription was perfect. We started with 500,000 subscribers in 2010 and today there are over 800,000.
There were other positions after that, still in media, at the Wall Street Journal and a startup called Tortoise Media, which was a sidestep into the world of entrepreneurism and away from the corporate environment. And then I moved back to corporate when I joined Hearst in December.
As CEO at Hearst, I'm responsible for the commercial success and growth of our portfolio of brands – many of which are recognised around the world – you may know ELLE and Cosmopolitan, Good Housekeeping and Esquire, or Men's Health, Women's Health and Runner's World.
It's a really exciting, broad mix of brands which all bring positivity to our readers through expert content – whether that's on homes, lifestyle, fashion, beauty, health, entertainment, or a host of other topic areas.
The CEO role means knowing your numbers inside and out, being completely on top of what's working commercially and what isn't, and being quick to change tack and try new things if you need to.
I don't think anyone sets out in their career to become a CEO. Starting out it's important to ask yourself what you're good at, what brings you joy, and where you can make a difference.
We spend most of our lives at work, so to me success is about loving what you do, being good at it, and it being a meaningful part of your life. That's what a career is really about, rather than a title.
Whether it's content creation or journalism you're interested in, design, the customer journey and data underpinning it, commercial and sales, legal, or marketing like me – the media industry has a really diverse set of roles to offer. And being part of a likeminded team that solves problems together and produces content that can inspire and at its best change lives, is a privilege.
My final advice on how to get on well in media would be – know your numbers, know your product, know your customers. And don't be afraid to ask questions.
Thanks for your time, and I hope you enjoy the rest of today.
Read the other keynote speeches from Shine 2023