29th October 2018
Thinking out loud – our tes workshop winners tell us their story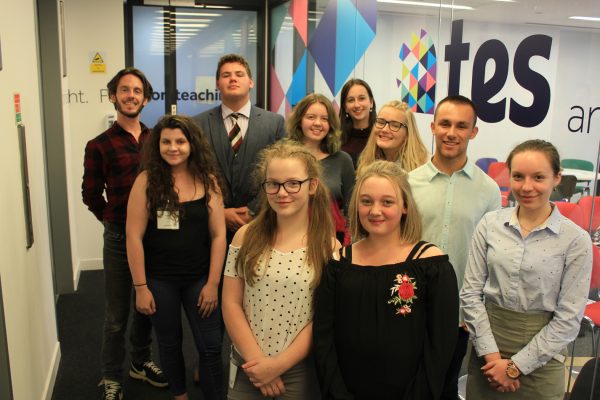 At Shine 2018, Fearns Community Sports College won both Best Newspaper and Best Newspaper Cover for Fearns Chat, their school newspaper.
We'd like to thank two students who have taken the time to tell us about their experience enjoying their prize – a workshop day at tes.
–
I found myself 'Thinking Out Loud' when I became Ed Sheeran as I was interviewed.
This was my favourite part of the tes workshop because I got to employ my quick thinking skills to answer important questions about Ed Sheeran's personal life.
We were also having a laugh while making up some funny answers.
My second favourite part was when we created the different features of a magazine and we all worked in different groups, however I did feel like the tasks in the workshop were aimed at an older age group.
I really enjoyed this amazing experience to see all of London and I am incredibly grateful to Catherine for giving us this amazing opportunity.
– Bethany Parker
–
My experience at tes was amazing. I learnt many things about journalism I wasn't confident in and I even realised I was able to do things such as writing headlines that I thought I couldn't do.
We started with a subbing workshop which was very interesting then we wrote a headline I often struggle to come up with a headline and it taught me what it needed to be like.
We did many other workshops to do with writing actual articles and what it would be like to interview somebody.
We wrote about the headteachers' march that was happening at the time and came up with our own headlines and introduction on it.
We did other activities such as work in groups and come up with our own company ideas based on a magazine, we also acted and pretended to interview a famous person, which was very funny and entertaining but I learnt a lot.
It was overall a fantastic day and was well worth the hours of travelling on the train.
Everybody that went was offered work experience which is an amazing opportunity and would be so helpful towards a career.
It was a most influential day for me because I learned to have confidence in my own work and to believe I can do this job.
– Tanita Sims
–
You can read more about the tes workshop on the Fearns Community Sports College website
Photos by Catherine Smyth