13th November 2018
Our Journalist of the Year tells his Shine story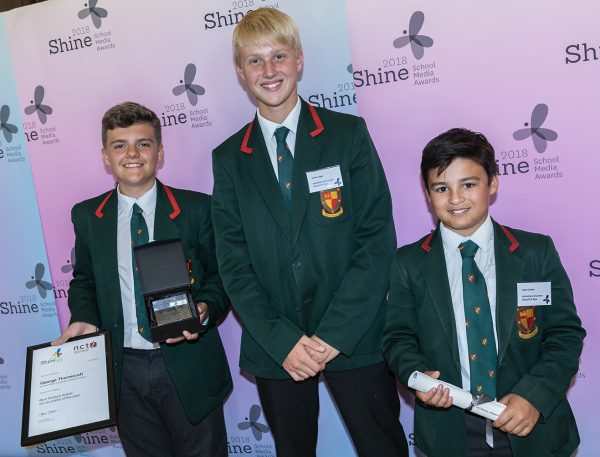 At our Shine awards day this summer, Best Feature Article and our Journalist of the Year was awarded to George Thornicroft from Altrincham Grammar School.
Part of his prize was a masterclass with the legendary Daily Telegraph journalist and long-time friend of the Shine School Media Awards, Dr Simon Heffer.
Here George (pictured at left, above with his team-mates) tells his story.
–
On Monday 22nd October, I went down to London with my family and some friends to enjoy the half term, and to meet Dr. Simon Heffer, as a reward for winning Journalist of the Year and Best Feature. I was going to have a one to one session with him for an hour.
I left Wilmslow Train Station at 9:30am to travel to Euston, London with my family and some friends and arrived at around 12pm. We walked over to our hotel; an incredible looking building with a view of the London Eye and the Thames. We then went for a quick lunch, and then wandered off to the Natural Science Museum. It was spectacular! The displays were interesting and informative, and I left with a massive smile on my face. My sister, on the other hand, was less than pleased… We went out for a magnificent dinner at The Rainforest Café and walked to the hotel for a well-earned rest.
The next day, I was ecstatic. I was anxious but ready at the same time, and I couldn't have felt happier with myself for being able to get to the stage I was at. My family and our friends got to Stationers' Hall early, so we were given a tour (for me, it was just a simple refresher, of course) and everyone was blown away with the sheer magnitude of the building's history and how incredible it looked.
Then, the big moment came, and not a moment too soon! I was introduced to Dr. Heffer and we got down to business immediately. We started talking about current affairs, interests, my articles, his articles; it was fantastic and I learnt stuff that will stay with me for the rest of my writing career. Dr. Heffer critiqued my work, and gave me feedback that will, again, be remembered for a very long time.
Overall, the weekend on a whole was brilliant and an experience I won't forget!