10th May 2019
Shine's Liz Hunt: an edited history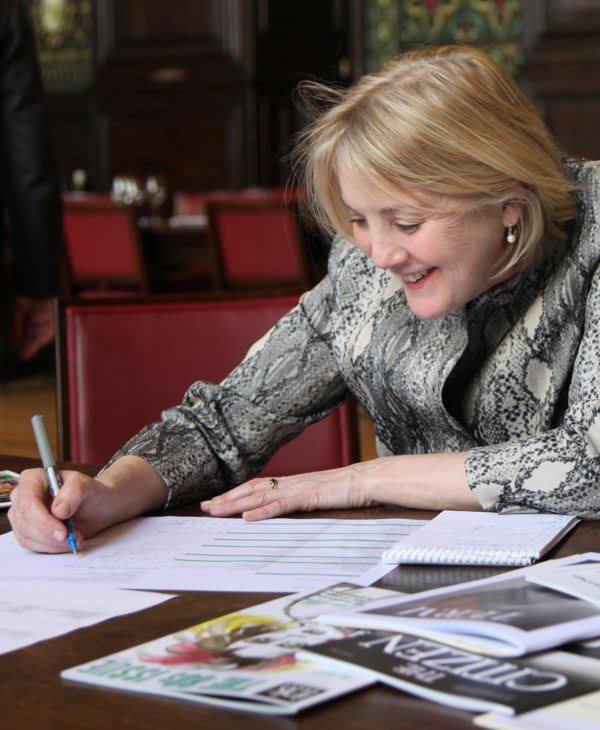 We're very fortunate to have Daily Mail Consulting Editor Liz Hunt on our Committee. Liz also judges the Shine Awards each summer and comes to our Awards Day. So… if you come along in July be sure to say hello and seek some advice from her.
In the article below, Liz tells us the fascinating story about how she came to be a journalist.
–
When I was 5 years old I demanded a typewriter for my birthday on which to compose my 'articles'.
By the time I was 10, the highlight of weekly visits to my grandparents for lunch was pinching my Grandad's Sunday Express and losing myself in home-grown scandals, politics, international affairs, the lives of the rich and famous, gossip and trenchant comment.
In my early teens I'd progressed to The Observer and the copies of Newsweek, Time and Life magazine that my father brought back from his travels overseas.
I cannot explain my early passion for print, but I knew absolutely that I had to be part of this exciting and glamorous world of 'news'. I wanted to be a journalist and I wanted to see my by-line on the pages of a national newspaper. Which is why it was rather disconcerting to find myself, after graduation, dispensing drugs, making ointments, and mixing up vast tubs of disinfectant as a pre-registration pharmacist at Barts Hospital in London.
Yes, I'd got distracted from my original goal, studied pharmacy at university and now I was regretting it. But ultimately, it worked to my advantage, becoming the springboard to the career I'd yearned for.
My first job in journalism was as a reporter on Chemist & Druggist, the 'newsweekly for retail pharmacists'.
And my first 'article' in print? A paragraph on a new formulation of Bonjela, a treatment for mouth-ulcers. I was so proud that I read out every word to my mother from a public telephone box in Tonbridge High Street! (I'm sure she was riveted.)
Later, my health credentials turned out to be my passport from business to the consumer press, first as Health Editor on 'best' magazine and then, for the big leap, to The Independent as Medical Correspondent. I'd pitched a story I'd come across by chance – about a major breakthrough in a new dietary treatment for a crippling auto-immune disease – to the paper's Medical Editor, and the resulting feature had caught the eye of the Editor himself.
I was lucky, yes, but I also seized the opportunities that came my way and worked damned hard.
Life on a newspaper was everything I'd dreamed it would be: frenetic, demanding, stressful but oh so exciting and all-consuming.
There were the highs of a front-page exclusive with my name attached, the dreadful lows of stories that were spiked, and the days and weeks when it seemed you couldn't get anything in the paper.
My first page 1 story was an interview I conducted in a hen house with a bunch of nuns who'd locked themselves in to stop their flock being slaughtered because of suspected salmonella.
I got to travel, covering wide-ranging stories from the spread of HIV in sub-Saharan Africa and an interview with the 'King of Lepers' in Nigeria, to the plight of dairy farmers in Vermont, and a space shuttle launch from Cape Kennedy in Florida.
I was arrested on the U.S./Canada border while on one assignment (a misunderstanding), spent a night in a jail cell in Uganda (another misunderstanding), took part in a transatlantic yacht race from Liverpool to San Salvador in Brazil, and climbed Kilimanjaro.
I've worked as a reporter, feature writer, columnist and latterly as an editor, with the enormous privilege, on occasion, of editing a paper. Best of all, whatever title I was working for, I was surrounded by brilliant, difficult, crazy people – editors, reporters, columnists, picture editors, sub-editors and designers – from whom I learned so much.
Thirty years on, and that is still the case – although much has changed in the business of news and how it is delivered. I learn something new, something that I hope makes me a better journalist, every day.
Today I'd like to urge any of you considering a career in this mad, high-octane world to GO FOR IT.
Yes, it's tough and highly competitive, but also endlessly fascinating – and it's fun! You can't really ask for more from a job.