30th November 2022
A report from our first Shine Alumni event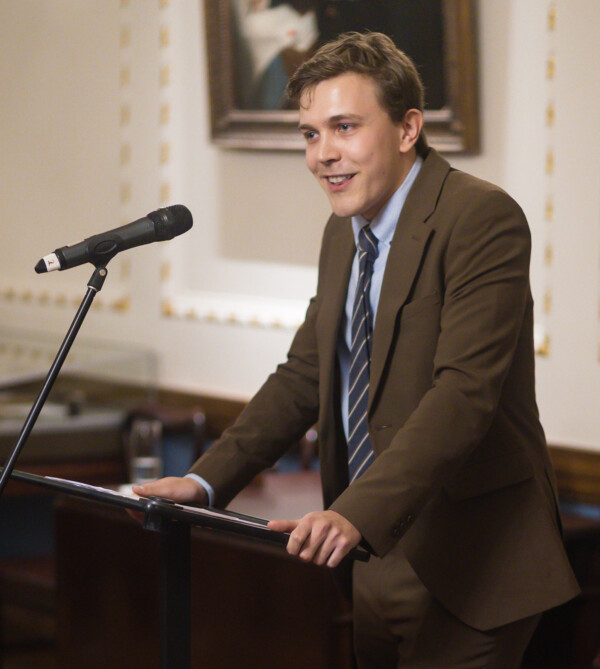 After two years' absence, Shine resumed celebrating the best of school journalism at Stationers' Hall with a reception on 10 October for alumni – our former winners.
The highlight of the evening was an inspiring speech by one of those alumni, Bill Bowkett, who had been named 'Most Outstanding Student' at the awards back in 2017.
Since then Bill has embarked on a career in journalism – and we invited him to tell his story at the event. His speech is published in full below.
When Anneliese Cooper Blake, our wonderful Shine Event Manager, kindly asked if I could make a short speech, I wasn't sure it would be possible for two reasons.
For one, I'm currently on a four-month work placement at the Scottish Daily Mail in Glasgow. No matter; I've 'gone the extra mile' to be here: a 400-mile, 10-hour coach trip, to be exact. And truth be told, I didn't think I could put into words the depth of gratitude I have for Shine in changing the course of my life.
When I first set foot in this historic livery hall more than six years ago, I was editor of my school magazine, NewsKnight of the Knights Templar School, reporting on everything from drama productions to sports day. At the age of 11, my heart was set on a career in journalism. I wanted to empower the informed, hold power to account, and shape society for the better.
Being recognised as 'Most Outstanding Student' at the 2017 Shine School Media Awards made working in Fleet Street a reality.
A minnow among sharks
How, you may ask? It opened doors for me into the industry, namely one memorable Sunday in 2018 at the Daily Mail in Kensington with Liz Hunt, a fellow judge at Shine. At that time I was editing the University of Kent's campus publication, InQuire. Meanwhile, Liz offered me a trial shift as an editorial assistant. I felt like a minnow swimming among the sharks of Britain's best-selling newspaper. Nevertheless, Liz – my mentor and inspiration – was willing to share her years of knowledge and expertise with me. Likewise, I was willing to listen and do what it took to make her proud.
My big break in journalism – which involved liaising with high-brow columnists, pitching stories and proofreading copy before it went to print – was exhilarating.
A taboo subject
More was to come. In 2019, Katherine Whitbourn, another judge, asked if I could write a piece for Autism Awareness Month. I had never written about my condition before, let alone talk about it publicly. Disability can feel like a taboo subject not openly discussed in normal conversations.
Nevertheless, Katherine, and our brilliant Chairman, Alison Strachan, guided me throughout the process. In 2019, my story of why 'my diagnosis is the best thing that's ever happened to me', was published in The Daily Telegraph, my first national by-line. Thanks to them, I was able to embrace my condition, be accepting of who I am, and perhaps allow others to see themselves more clearly.
Following this, Richard Chapman and the Committee bestowed on me the honour of becoming a judge, alongside my partner-in-crime Sarah Maxwell Magnus.
Around then, my relationship with the Worshipful Company of Stationers and Newspaper Makers grew. Liz and Alison supported me during my application for a Major Award scholarship to study Newspaper Journalism at City, University of London.
The bursary enabled me to fully engage with my studies without the financial burden. It also made me more comfortable in accepting unpaid work experience last year with the commentary-news website, Reaction. Again, this was only possible because of Shine. Better still, Reaction's publisher, Iain Martin, offered me a job as the website's political reporter, my first full-time media job.
In the span of a year, I went from writing essays in my bedroom during lockdown to attending party conferences and becoming a regular on TV stations such as GB News and TalkTV. And last spring, on the third time of asking, I gained a place on the Daily Mail's prestigious graduate scheme.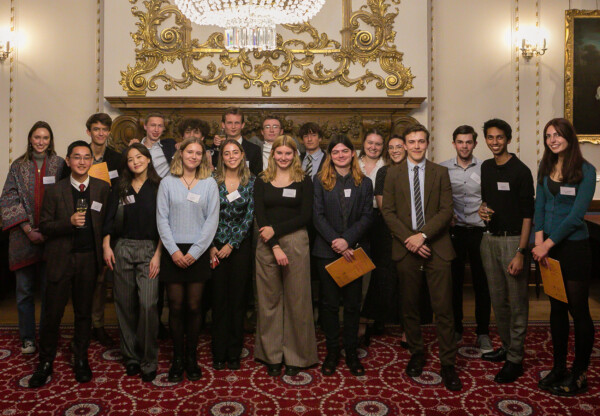 Life-changing lessons
In his seminal essay 'Politics and the English Language', George Orwell said the widespread use of cliché can often be weaponised to hide some unpleasant truths. But I mean it when I say this: the last five years – the trials, the tribulations, the lessons I've learned and the opportunities I've been given – have been life-changing.
Now I feel it is the moment to give something back. I am hoping in the next few months to be made a Freeman of The Stationers' Company. I believe the more you give to something the more you get out of it. And whether it will be through charity work or formal networking, I cannot wait to be a member of an institution that carries more than 600 years of heritage.
Tomorrow's talent
In many ways, we are gathered here to recognise the creativity of young people and create a forum for them to share their experiences. But to me, it means more than that. When Terry Mansfield, the former president of Hearst and a founding member of Shine, passed away from COVID-19 two years ago, I remember being struck by a term he'd often said to me and everyone in this room: and that is 'tomorrow's talent'.
And that is what the last decade, culminating in tonight, is all about. Standing by the values each and every single one of us prize: to educate, to nurture, to Shine.